You are here
Back to top
The Siren, the Song, and the Spy (Hardcover)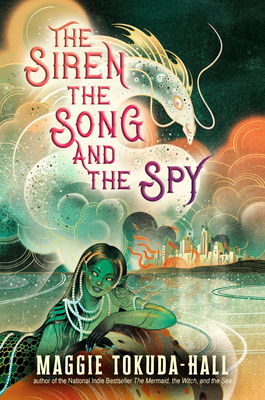 $19.99

Usually Ships in 1-5 Days
Description
---
In this second vibrant fantasy from Maggie Tokuda-Hall, companion to her best-selling debut, The Mermaid, the Witch, and the Sea, a diverse resistance force fights to topple an empire in a story about freedom, identity, and decolonization.

By sinking a fleet of Imperial Warships, the Pirate Supreme and their resistance fighters have struck a massive blow against the Emperor. Now allies from across the empire are readying themselves, hoping against hope to bring about the end of the conquerors' rule and the rebirth of the Sea. But trust and truth are hard to come by in this complex world of mermaids, spies, warriors, and aristocrats. Who will Genevieve—lavishly dressed but washed up, half-dead, on the Wariuta island shore—turn out to be? Is warrior Koa's kindness toward her admirable, or is his sister Kaia's sharp suspicion wiser? And back in the capital, will pirate-spy Alfie really betray the Imperials who have shown him affection, especially when a duplicitous senator reveals xe would like nothing better?

Meanwhile, the Sea is losing more and more of herself as her daughters continue to be brutally hunted, and the Empire continues to expand through profits made from their blood. The threads of time, a web of schemes, shifting loyalties, and blossoming identities converge in Maggie Tokuda-Hall's remarkable companion to The Mermaid, the Witch, and the Sea, as unlikely young allies work to forge a new and better world.
About the Author
---
Maggie Tokuda-Hall has an MFA in creative writing from the University of San Francisco and a strong cake-decorating game. She is the author of the young adult novel The Mermaid, the Witch, and the Sea, an indie bestseller and recipient of the Northern California Book Award in Children's Literature, as well as the picture book Also an Octopus, illustrated by Benji Davies, which won a Parents' Choice Gold Award. Maggie Tokuda-Hall lives in Oakland, California, with her children, husband, and dog.
Praise For…
---
A tragedy upends the worldview of a handmaid to an Imperial spy in this follow-up to 2020's The Mermaid, the Witch, and the Sea. . . . No one escapes the Sea's reckoning in this searing sequel. The cast is diverse in gender identity, sexual orientation, skin color, and socioeconomic status. Together, they tell a story in which justice isn't attained through a cycle of vengeance but with the truth laid bare, paving the way toward reconciliation. Powerful and emotionally gratifying.
—Kirkus Reviews (starred review)

The follow-up to The Mermaid, the Witch, and the Sea cements Maggie Tokuda-Hall as one of the most unflinching voices in contemporary genre literature. This book contains the compassion we need alongside the reckoning we deserve.
—Sarah Gailey, author of When We Were Magic
Welcome to Next Page!
Click below to read our September Newsletter!
Check out our Author Resource page at the link below
Our Pre-Orders are here! Check out what we have in store!