You are here
Back to top
The Three-Body Problem (The Three-Body Problem Series #1) (Paperback)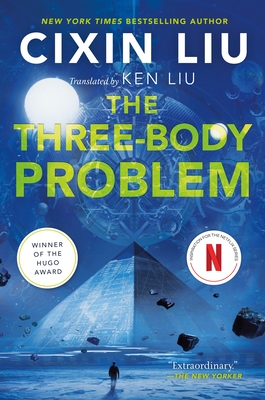 $18.99

Usually Ships in 1-5 Days
Description
---
Soon to be a Netflix Original Series!

"War of the Worlds for the 21st century." – Wall Street Journal

The Three-Body Problem is the first chance for English-speaking readers to experience the Hugo Award-winning phenomenon from China's most beloved science fiction author, Liu Cixin.

Set against the backdrop of China's Cultural Revolution, a secret military project sends signals into space to establish contact with aliens. An alien civilization on the brink of destruction captures the signal and plans to invade Earth. Meanwhile, on Earth, different camps start forming, planning to either welcome the superior beings and help them take over a world seen as corrupt, or to fight against the invasion. The result is a science fiction masterpiece of enormous scope and vision.

The Three-Body Problem Series
The Three-Body Problem
The Dark Forest
Death's End

Other Books
Ball Lightning
Supernova Era
To Hold Up The Sky (forthcoming)
About the Author
---
CIXIN LIU is the most prolific and popular science fiction writer in the People's Republic of China. Liu is an eight-time winner of the Galaxy Award (the Chinese Hugo) and a winner of the Chinese Nebula Award. Prior to becoming a writer, he worked as an engineer in a power plant. His novels include The Three-Body Problem, The Dark Forest, and Death's End.

Ken Liu is an award-winning author of speculative fiction. His books include the Dandelion Dynasty series (The Grace of Kings), The Paper Menagerie and Other Stories, The Hidden Girl and Other Stories, and the Star Wars tie-in novel, The Legends of Luke Skywalker. He frequently speaks at conferences and universities on topics like futurism, machine-augmented creativity, the mathematics of origami, and more. He lives near Boston with his family.
Praise For…
---
"A breakthrough book . . . a unique blend of scientific and philosophical speculation." —George R. R. Martin, on The Three Body Problem

"Extraordinary." —The New Yorker, on The Three Body Problem

"Remarkable, revelatory and not to be missed." —Kirkus Reviews, starred review, on The Three Body Problem

"A must-read in any language." —Booklist, on The Three Body Problem

"A meditation on technology, progress, morality, extinction, and knowledge that doubles as a cosmos-in-the-balance thriller.... a testament to just how far [Liu's] own towering imagination has taken him... forever into the canon of science fiction. - NPR, on Death's End

"The best kind of science fiction, familiar but strange all at the same time." -- Kim Stanley Robinson, on The Three Body Problem
Welcome to Next Page!
Click below to read our November Newsletter!
Check out our Author Resource page at the link below
Our Pre-Orders are here! Check out what we have in store!