You are here
Back to top
The Bandit Queens: A Novel (Hardcover)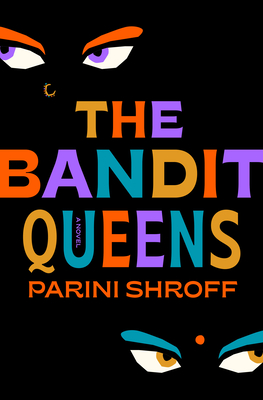 $28.00

Usually Ships in 1-5 Days
January 2023 Indie Next List
---
"A rebuke of misogynistic violence and a rollicking romp through an erstwhile crime spree, The Bandit Queens is incisive, yet funny and sweet in its sharpness. This tongue-in-cheek celebration of women's solidarity is not to be missed."
— Milo Michels, University Book Store, Seattle, WA
Description
---
GOOD MORNING AMERICA BUZZ PICK • A young Indian woman finds the false rumors that she killed her husband surprisingly useful—until other women in the village start asking for her help getting rid of their own husbands—in this razor-sharp debut.

"Shroff captures the complexity of female friendship with acuity, wit, and a certain kind of magic irreverence. . . . The Bandit Queens is tender, unpredictable, and brimming with laugh-out-loud moments."—Téa Obreht, New York Times bestselling author of The Tiger's Wife

Five years ago, Geeta lost her no-good husband. As in, she actually lost him—he walked out on her and she has no idea where he is. But in her remote village in India, rumor has it that Geeta killed him. And it's a rumor that just won't die.

It turns out that being known as a "self-made" widow comes with some perks. No one messes with her, harasses her, or tries to control (ahem, marry) her. It's even been good for business; no one dares to not buy her jewelry.

Freedom must look good on Geeta, because now other women are asking for her "expertise," making her an unwitting consultant for husband disposal.

And not all of them are asking nicely.

With Geeta's dangerous reputation becoming a double-edged sword, she has to find a way to protect the life she's built—but even the best-laid plans of would-be widows tend to go awry. What happens next sets in motion a chain of events that will change everything, not just for Geeta, but for all the women in their village.

Filled with clever criminals, second chances, and wry and witty women, Parini Shroff's The Bandit Queens is a razor-sharp debut of humor and heart that readers won't soon forget.
About the Author
---
Parini Shroff received her MFA from the University of Texas at Austin, where she studied under Elizabeth McCracken, Alexander Chee, and Cristina García. She is a practicing attorney and currently lives in the San Francisco Bay Area. The Bandit Queens is her debut novel.
Praise For…
---
"This funny, feel-good read is a rollicking ride rife with memorable characters involved in ill-fated hijinks. It also serves up commentary on class, power dynamics and the role of women in society, with a feminist history lesson to boot."—Good Housekeeping

"Shroff cleverly considers how women might achieve autonomy within rural India's patriarchal society through shrewd, if complicated, female friendships."—The Washington Post

"This book is so much fun! In Parini Shroff's dark comedy, the put-upon women of a small Indian village decide to get rid of their husbands—permanently. Things quickly spiral out of control as the bodies start piling up, the police get curious, and Geeta enters into a second-chance romance with a quiet widower who runs a speakeasy. And there's a dog! What's not to love?"—CrimeReads

"The Bandit Queens is an original, memorable, and endearing story. At times deeply serious, then laugh-out-loud funny, Parini Shroff has written a sobering but hopeful exploration of womanhood, social injustices, and second chances."—Charmaine Wilkerson, New York Times bestselling author of Black Cake

"Parini Shroff's splendid The Bandit Queens is a hilarious romp about serious things—as serious as a novel gets, and as funny, too, with characters who are dear and maddening and indelible and gorgeously drawn. Twisty, compulsive, bold, surprising, moving: It's a wonderful book."—Elizabeth McCracken, bestselling author of The Souvenir Museum and The Hero of This Book

"Parini Shroff's debut novel is a rollicking mash-up of adventure story, thriller, dark revenge, and comedy. Rooted in a rural village in India—and led by the pariah widow Geeta, whom everyone believes to have killed her husband—a handful of women band together to take back their lives, and take down the patriarchy. An immensely enjoyable read!"—Cristina García, New York Times bestselling author of Dreaming in Cuban and The Lady Matador's Hotel

"Shroff's debut is a darkly hilarious take on gossip, caste, truth, village life, and the patriarchy. A perfect match for fans of Oyinkan Braithwaite's My Sister, the Serial Killer and clever, subversive storytelling."—Booklist (starred review)

"At once immensely sad . . . but it has laugh-out-loud moments too. This is a deeply human book, with women surviving and overcoming in their culture while still remaining a part of it. Similar in feel to Interpreter of Maladies by Jhumpa Lahiri."—Library Journal, starred review

"Witty one-liners, tender moments of deep female friendship, and salient truths . . . [A] tale of the strength of women in impossible situations." —Kirkus Reviews

"In Shroff's acerbic debut, a woman helps other women escape their abusive marriages in their small village in India, often through murder. . . . Readers are in for a razor-stuffed treat."—Publishers Weekly
Welcome to Next Page!
Click below to read our March Newsletter!
Check out our Author Resource page at the link below
Our Pre-Order are here! Check out what we have in store!