You are here
Back to top
Unfortunately Yours: A Novel (Vine Mess #2) (Paperback)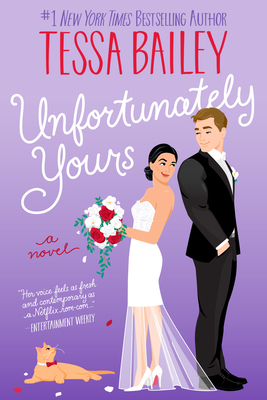 $18.99

Usually Ships in 1-5 Days
Description
---
#1 New York Times bestselling author Tessa Bailey is back in Napa Valley with this hilarious rom-com about a down-on-her-luck heiress who suggests a mutually beneficial marriage of convenience to a man she can't stand... only to discover there's a fine line between love and hate.
After losing her job and her fiancé in one fell swoop, Natalie Vos returned home to lick her wounds. A few months later, she's sufficiently drowned her sorrows in cabernet and she's ready to get back on her feet. She just needs her trust fund to finance her new business venture. Unfortunately, the terms require she marry before she can have the money. And well, dumped, remember?
But Natalie is desperate enough to propose to a man who makes her want to kill him—and kiss him, in equal measure. 
August Cates may own a vineyard, but he doesn't know jack about making wine. He's determined to do his late best friend proud, no matter what it takes. Except his tasting room is empty, his wine is disgusting (seriously, he once saw someone gag), and his buddy's legacy is circling the drain. No bank will give him the loan he needs to turn the business around... and then the gorgeous, feisty heiress knocks on his door.
Natalie has haunted August's dreams since the moment they met, but their sizzling chemistry immediately morphed into simmering insults. Now, a quickie marriage could help them both. A sham wedding, a few weeks living under the same roof, and then they can go their separate ways—assuming they make it out alive. How hard could it be?
There's just one thing they didn't account for: their unfortunate, unbearable, undeniable attraction.
About the Author
---
#1 New York Times Bestselling author Tessa Bailey can solve all problems except for her own, so she focuses those efforts on stubborn, fictional blue collar men and loyal, lovable heroines. She lives on Long Island avoiding the sun and social interactions, then wonders why no one has called. Dubbed the "Michelangelo of dirty talk," by Entertainment Weekly, Tessa writes with spice, spirit, swoon and a guaranteed happily ever after. Catch her on TikTok at @authortessabailey or check out tessabailey.com for a complete list of books.
Praise For…
---
"This enemies-to-lovers, fake-marriage romance is brimming with witty banter and sizzling with chemistry. The protagonists are fully realized, with painful backstories and emotional growth throughout the novel... Bailey's fans won't be disappointed with this hilarious, heartfelt follow-up to Secretly Yours." — Library Journal
"The latest addition to the author's Vine Mess books, which follows Secretly Yours (2023), is vintage Bailey with heady notes of earthy sensuality and smoldering sexual chemistry neatly balanced by deliciously dry hints of sassy humor."
— Booklist
"Tessa Bailey is the queen of rom-coms. Long may she reign!" — Julie Murphy, #1 New York Times bestselling author of A Merry Little Meet Cute
"Nothing makes my heart catch fire like a Tessa Bailey book. She is all things magic and dirty talk."  — Elena Armas, New York Times Bestselling Author of The Spanish Love Deception
"The tenderness, vulnerability and heat I am always guaranteed with a Tessa Bailey book are the reasons she is one of my all-time favorite authors."  — Sally Thorne
"Tessa Bailey writes pure magic." — Alexis Daria
"One of the genre's very best." — Kate Clayborn
"Tessa Bailey's writing stands out in all the right sexy ways." — Buzzfeed
"Bailey writes banter and rom-com scenarios with aplomb, but for those who like their romance on the spicier side, she's also the Michelangelo of dirty talk. She wields filth like Da Vinci does a paintbrush, and there's a lot to be said for an author who can fill such exchanges with all the requisite heat, enthusiastic consent, and yes, even humor, of such a scenario without veering into corny territory." — Entertainment Weekly
Welcome to Next Page!
Click below to read our April Newsletter!
Check out our Author Resource page at the link below
Our Pre-Order are here! Check out what we have in store!