You are here
Back to top
Small Mercies: A Novel (Hardcover)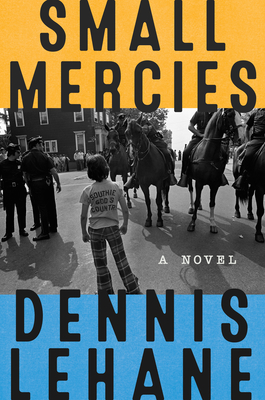 $30.00

Usually Ships in 1-5 Days
May 2023 Indie Next List
---
"Lehane is one of the best writers of his generation. He depicts Boston like no one else can, and the story, the characters, as well as the deep dive into the social fabric of a place make this a must read."
— Cody Morrison, Square Books, Oxford, MS
Description
---
Instant New York Times Bestseller
"Small Mercies is thought provoking, engaging, enraging, and can't-put-it-down entertainment." — Stephen King
The acclaimed New York Times bestselling writer returns with a masterpiece to rival Mystic River—an all-consuming tale of revenge, family love, festering hate, and insidious power, set against one of the most tumultuous episodes in Boston's history.
In the summer of 1974 a heatwave blankets Boston and Mary Pat Fennessy is trying to stay one step ahead of the bill collectors. Mary Pat has lived her entire life in the housing projects of "Southie," the Irish American enclave that stubbornly adheres to old tradition and stands proudly apart.
One night Mary Pat's teenage daughter Jules stays out late and doesn't come home. That same evening, a young Black man is found dead, struck by a subway train under mysterious circumstances.
The two events seem unconnected. But Mary Pat, propelled by a desperate search for her missing daughter, begins turning over stones best left untouched—asking questions that bother Marty Butler, chieftain of the Irish mob, and the men who work for him, men who don't take kindly to any threat to their business.
Set against the hot, tumultuous months when the city's desegregation of its public schools exploded in violence, Small Mercies is a superb thriller, a brutal depiction of criminality and power, and an unflinching portrait of the dark heart of American racism. It is a mesmerizing and wrenching work that only Dennis Lehane could write.
About the Author
---
Dennis Lehane is the author of thirteen novels—including the New York Times bestsellers Live by Night; Moonlight Mile; Gone, Baby, Gone; Mystic River; Shutter Island; and The Given Day—as well as Coronado, a collection of short stories and a play. He grew up in Boston, MA and now lives in California with his family.
Praise For…
---
"Excellent and unflinching . . . . [Small Mercies] has all the hallmarks of Lehane at his best: a propulsive plot, a perfectly drawn cast of working-class Boston Irish characters, razor-sharp wit and a pervasive darkness through which occasional glimmers of hope peek out like snowdrops in early spring . . . . Lehane masterfully conveys how the past shapes the present, lingering even after the players are gone." — J. Courtney Sullivan, New York Times Book Review
"[A] ferocious crime novel. . . Land[s] like a fist to the solar plexus. . . Full of booby traps, but the metaphorical kind that blow up futures instead of limbs. . .[As] in the best mysteries, the detective herself is cracked open and remade. . ." — Laura Miller, The New Yorker
"Joltingly fierce . . . Dennis Lehane spares nothing and no one in his crackerjack new novel." — Janet Maslin, The New York Times
"Small Mercies is thought provoking, engaging, enraging, and can't-put-it-down entertainment."  — Stephen King
"Small Mercies is a jaw-dropping thriller, set in the fury of Boston's 1974 school-desegregation crisis, and propelled by a hell-bent woman who's impossible to ignore. Thought-provoking and heart-thumping, it's a resonant, unflinching story written by a novelist who is simply one of the best around." — Gillian Flynn
"Without flinching, Dennis Lehane shines a lantern on a dark story, one the reader will not forget." — James Lee Burke
"Dennis Lehane is a supernova and this is a novel that will throw your entire goddamn solar system out of alignment. Lehane has gone from strength to strength but never has he been more truthful, more heartbreaking, more essential. In the midst of our racial nightmare Small Mercies asks some of the only questions that matter: 'What's gonna change? When's it gonna change? Where's it gonna change? How's it gonna change?' This book is impossible to put down and its dark radiances will stay with you a long, long time." — Junot Díaz, Pulitzer Prize-winning author of This Is How You Lose Her
"Dennis Lehane peels back the layers of his characters like a sculptor finding the face of an angel in a block of stone. By a true master at the top of his game, Small Mercies is vintage Lehane. Beautiful, brutal, lyrical and blisteringly honest. Not to be missed." — S.A. Cosby, bestselling author of Razorblade Tears and Blacktop Wasteland
"Beautiful. I was blown away by how Dennis Lehane was able to bring such a deeply unfamiliar world into my heart. Small Mercies is hilarious and heartbreaking, infuriating and unforgettable."
— Jacqueline Woodson, National Book Award winning author
"Gritty . . . Brings readers into the mind of Coyne, a Vietnam vet and recovered heroin user who becomes a partial confidante to Mary Pat. His quest for personal salvation, if you will, is a welcome balance to her grief-driven descent." — Wall Street Journal
"You'll be lucky if you read a more engaging novel this year."  — The Times (London)
"Masterful . . . . If Lehane's sociological precision gives Small Mercies a gravitas seldom found in crime novels, Mary Pat Fennessy, a 'mother . . . built for battle,' enhances the effect. She is a 20th-century version of a Fury out of Greek mythology, and her one-woman war against the mob is a fearsome thing to behold." — Washington Post
"Lehane book is a searing depiction of what happens when powerful emotional constructs such as maternal rage, racism, and militant isolationism collide and combust, leaving only the most tentative green shoots to poke through the ashes." — Air Mail
"This taut, gripping mystery is also a novel of soul-searching, for the author and reader alike." — Kirkus Reviews (starred review)
"Powerful, unforgettable…[a] remarkable novel about racism, violence, and parental vengeance." — Library Journal (starred review)
"A complex, multidimensional tragedy of epic proportions . . . Lehane straddles the line between historical fiction and thriller as dexterously as anyone, and this is his best work so far." — Booklist (starred review)
"Where a lesser writer might make Coyne into a cliché, Lehane imbues him with an unlikely humanity, a sense of hope that a better world exists, even if he's not exactly a do-gooder in his own right." — Los Angeles Times
"As always, Lehane is terrific at finely drawn character sketches thrumming with both immediacy and humor." — Boston Globe
". . . ambitious and multi-layered." — Financial Times (UK)
"Every page holds a line or a passage to savor and admire. More than a few will have readers cracking up. The lasting impression, though, will be of Mary Pat Fennessey—easily one of Lehane's most indelible creations—a hard-bitten, foul-mouthed, 'tough Irish broad' from the Southie housing projects . . . . This potent mix of love and hate, racism and tribalism, revenge and reckoning, is Lehane writing at the top of his game, and will surely be one of the best books of the year." — Vannessa Cronin, Amazon Editor
"At the heart of this book is a masterly psychological study of racism. Lehane provides top-notch dialogue, an absorbing mystery, and and evocation of a historical moment foreshadowing America's 21st-century ethnic divide." — The Sunday Times (UK)
"Small Mercies emerges as the ultimate Southie novel, a witness's wrenching reckoning with a neighborhood that took care of its own, closed its borders, and fell to the enemy inside its walls." — Chicago Review of Books
". . . This superior crime drama from bestseller Lehane explores deep-rooted racism in South Boston." — Publishers Weekly
"Set amid Boston's school busing crisis in the '70s, this explosive thriller begins when two mothers, Black and White, lose their children—one dead, one missing—on a sweltering summer night. With nothing left to live for, Mary Pat Fennessy turns against her own community. Lehane at his best." — People Magazine
"Lehane is now well established as one of America's finest crime writers, who superbly blends uncompromising social history with uncompromising tales of what people driven to the limit will do. As ever, Small Mercies is populated with a wide-ranging collection of unforgettable people." — Reader's Digest (UK)
". . . an old school, Southie mystery thriller that I think a lot of people are going to love to read." — Boston.com
"The bard of Boston returns with a raw-knuckled tale of school integration, racial tension, and a pair of suspicious deaths that rattles both sides of that divide circa 1974." — Entertainment Weekly
"Riveting." — Tampa Bay Times
"If you read only one crime fiction novel this year, it should be Small Mercies." — Deadly Pleasures Mystery Magazine
Welcome to Next Page!
Click below to read our April Newsletter!
Check out our Author Resource page at the link below
Our Pre-Order are here! Check out what we have in store!