You are here
Back to top
You're Not Supposed to Die Tonight (Hardcover)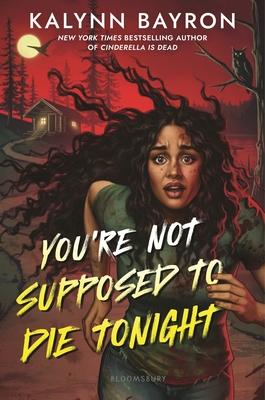 $19.99

Coming Soon - Available for Pre-Order Now
Description
---
At Camp Mirror Lake, terror is the name of the game . . . but can you survive the night?

This heart-pounding slasher by New York Times bestselling author Kalynn Bayron is perfect for fans of Fear Street.

Charity has the summer job of her dreams, playing the "final girl" at Camp Mirror Lake. Guests pay to be scared in this full-contact terror game, as Charity and her summer crew recreate scenes from a classic slasher film, The Curse of Camp Mirror Lake. The more realistic the fear, the better for business.

But the last weekend of the season, Charity's co-workers begin disappearing. And when one ends up dead, Charity's role as the final girl suddenly becomes all too real. If Charity and her girlfriend Bezi hope to survive the night, they'll need figure out what this killer is after. As they unravel the bloody history of the real Mirror Lake, Charity discovers that there may be more to the story than she ever suspected . . .
About the Author
---
Kalynn Bayron is the bestselling author of the award-winning YA fantasy Cinderella Is Dead and This Poison Heart. She is a classically trained vocalist and when she's not writing you can find her listening to Ella Fitzgerald on loop, attending the theater, watching scary movies, and spending time with her kids. She currently lives in upstate New York with her family.
Praise For…
---
"A spine-tingling camp slasher with a cast of characters you can't help but root for." —Ryan Douglass, author of New York Times bestseller THE TAKING OF JAKE LIVINGSTON

"Bayron's abundant use of familiar twists and turns draw on the genre's classic predecessors to craft a gory and darkly funny read that is sure to satisfy slasher fans." —Publishers Weekly

"In this latest novel, Bayron (My Dear Henry, 2023) integrates the traditional conventions of a slasher novel with the story of a queer, Black girl protagonist who subverts the trope of "Black people dying first." Bayron's foray into the YA horror space helps continue the effort of decentering whiteness in the genre. The overall campiness of the novel will appeal to fans of '90s horror films, and make the book as fun as it is terrifying." —Booklist

"Thrilling and magnetic, This Poison Heart pulses with true Black girl magic and endless mystery." —Julian Winters, award-winning author of RUNNING WITH LIONS, on THIS POISON HEART

"A verdant read as rich as the greenery within it, This Poison Heart will wrap its vines around you and never let go." —Kayla Ancrum, author of THE WICKER KING, on THIS POISON HEART

"Bayron takes an old story, turns it on its head, and makes it her own with a stunning display of pacing, character, and legacy." —E. K. Johnston, #1 New York Times bestselling author, on THIS POISON HEART

"This Poison Heart masterfully weaves a unique story grounded in the depths of Greek mythology and Black girlhood, ideal for lovers of folklore or those who enjoy the thrill of a well-paced and unanticipated adventure." —Booklist, starred review, on THIS POISON HEART

"Bayron weaves science and Greek mythology into a captivating lore that lends weight to this fantastical contemporary story. She conjures entertaining and realistic dialogue and attentive characterization, while incisive descriptions and sumptuous prose evoke a wonderfully gothic atmosphere." —Publishers Weekly, starred review, on THIS POISON HEART

"Kalynn Bayron does more than re-write a fairy-tale . . . She breaks it apart and rebuilds it into a wholly original and captivating story where girls finally decide for themselves who lives happily ever after." —Brigid Kemmerer, author of the New York Times bestselling Cursebreaker series, on CINDERELLA IS DEAD
Welcome to Next Page!
Click below to read our April Newsletter!
Check out our Author Resource page at the link below
Our Pre-Order are here! Check out what we have in store!