You are here
Back to top
The Headmaster's List (Hardcover)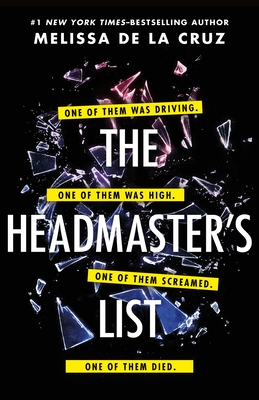 $19.99

Usually Ships in 1-5 Days
Description
---
One of Us Is Lying meets Gossip Girl in The Headmaster's List, an edge-of-your-seat YA thriller about a fatal car crash and the dangerous lengths one teen will go to uncover the truth about what really happened.

Friday night. The party of the summer. Four teens ride home together. Only one never makes it.

When high school sophomore Chris Moore is tragically killed in a car crash, Armstrong Prep is full of questions. Who was at the wheel? And more importantly, who was at fault?

Eighteen-year-old Spencer Sandoval wishes she knew. As rumors swirl that her ex, Ethan, was the reckless driver, she can't bring herself to defend him. And their messy breakup has nothing to do with it – she can't remember anything from that night, not even what put her in that car with Ethan, Chris, and Tabby Hill, the new loner in school.

The hunt for answers intensifies when a local true crime podcast takes an interest in the case, pushing Spencer further into the depths of this sinister mystery. Was it all just a night out that went very wrong? And is it a coincidence that all but Chris is on Armstrong's esteemed honor roll, the Headmaster's List? In a place ruled by pedigree and privilege, the truth can only come at a deadly price.

Set against the glitz and glamour of an elite LA private school, Melissa de la Cruz's explosive YA thriller is an addictive mystery perfect for fans of Only Murders in the Building and A Good Girl's Guide to Murder.

"There's nothing Melissa de la Cruz can't write, and she continues to prove it with this razor-sharp, glitteringly mysterious thriller! Put The Headmaster's List at the top of your TBR." - Kiersten White, #1 New York Times bestselling author of the And I Darken trilogy

"Melissa de la Cruz will keep you guessing - all the way up to the last page even when you think you've figured it out! Everything you want in a thriller - a complicated heroine, snarky outsiders, cute boys, and a surprising and insightful story about status, race, class and tragedy in Los Angeles." - Sara Shepard, New York Times bestselling author of Pretty Little Liars
About the Author
---
MELISSA DE LA CRUZ is the #1 New York Times, #1 Publisher's Weekly and #1 Indie Bound bestselling author of many critically acclaimed and award-winning novels for readers of all ages, and edited the inspiring anthology of true stories, Because I Was a Girl. She grew up in Manila and moved to San Francisco with her family, where she graduated high school salutatorian from The Convent of the Sacred Heart. At Columbia University, she majored in art history and English. Melissa de la Cruz lives in West Hollywood with her husband and daughter.
Praise For…
---
"There's nothing Melissa de la Cruz can't write, and she continues to prove it with this razor-sharp, glitteringly mysterious thriller! Put The Headmaster's List at the top of your TBR." - Kiersten White, #1 New York Times bestselling author of the And I Darken trilogy

"Melissa de la Cruz will keep you guessing - all the way up to the last page even when you think you've figured it out! Everything you want in a thriller - a complicated heroine, snarky outsiders, cute boys, and a surprising and insightful story about status, race, class and tragedy in Los Angeles." - Sara Shepard, New York Times bestselling author of Pretty Little Liars

"A twisty thriller with a likable and complicated protagonist." - Kirkus Reviews

"An invigorating thriller teeming with anticipatory tension." - Publishers Weekly

Welcome to Next Page!
Click below to read our April Newsletter!
Check out our Author Resource page at the link below
Our Pre-Order are here! Check out what we have in store!