You are here
Back to top
The Last Beekeeper (Hardcover)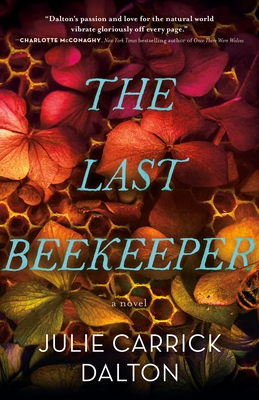 $27.99

Usually Ships in 1-5 Days
Description
---
Julie Carrick Dalton's The Last Beekeeper is a celebration of found family, an exploration of truth versus power, and the triumph of hope in the face of despair.

"Fans of Delia Owens will swoon to find their new favorite author." (Hank Phillippi Ryan)

It's been more than a decade since the world has come undone, and Sasha Severn has returned to her childhood home with one goal in mind—find the mythic research her father, the infamous Last Beekeeper, hid before he was incarcerated. There, Sasha is confronted with a group of squatters who have claimed the quiet, idyllic farm as their own. While she initially feels threatened, the group soon becomes her newfound family, offering what she hasn't felt since her father was imprisoned: security and hope. Maybe it's time to forget the family secrets buried on the farm and focus on her future.

But just as she settles into her new life, Sasha witnesses the impossible. She sees a honey bee, presumed extinct. People who claim to see bees are ridiculed and silenced for reasons Sasha doesn't understand, but she can't shake the feeling that this impossible bee is connected to her father's missing research. Fighting to uncover the truth could shatter Sasha's fragile security and threaten the lives of her newfound family—or it could save them all.

Julie Carrick Dalton's The Last Beekeeper is a celebration of found family, an exploration of truth versus power, and the triumph of hope in the face of despair. It is a meditation on forgiveness and redemption and a reminder to cherish the beauty that still exists in this fragile world.

Also by Julie Carrick Dalton:
Waiting for the Night Song
About the Author
---
As a journalist, JULIE CARRICK DALTON has published more than a thousand articles in The Boston Globe, BusinessWeek, The Hollywood Reporter, Orion Magazine, Electric Literature, and other publications. A Tin House and Bread Loaf alum, and graduate of GrubStreet's Novel Incubator, Dalton holds a master's degree in literature and creative writing from Harvard Extension School. She is a frequent speaker on the topic of writing fiction in the age of climate crisis. A mom to four kids and two dogs, Dalton is an avid skier, hiker, and kayaker. A former beekeeper, she also farms a gorgeous tract of land in rural New Hampshire.
Praise For…
---
"Dalton's passion and love for the natural world vibrates gloriously off every page. The Last Beekeeper is not only an intriguing mystery but an important reminder of what we stand to lose." —Charlotte McConaghy, New York Times bestselling author of Once There Were Wolves

"Dalton's second novel, The Last Beekeeper, buzzes with as much emotion and urgency as her debut, Waiting for the Night Song. It is so much more than a tale about bees: it's a story about humanity, determination, and honoring the delicate world in which we all live." —Sarah Penner, New York Times bestselling author of The Lost Apothecary

"Filled with meditations on the fragile beauty of nature and the power of hope and resilience, this heartfelt novel will keep readers turning the pages late into the night." —Angie Kim, internationally bestselling author of Miracle Creek

"Julie Carrick Dalton's The Last Beekeeper is many novels in one. An intensely personal mystery wrapped in a post-apocalyptic conspiracy thriller. An alarming yet hopeful reflection on the delicate relationship between humans and nature. A tenderly wrought tale of a young woman's quest for family and community." —WBUR (Boston NPR)

"The disappearance of the world's bees, along with the other pollinating insects, in an ecological disaster dubbed the Great Collapse provides the backdrop for this moving post apocalyptic thriller from Dalton... Dalton does a fine job imbuing all the characters with plausible emotions and reactions to their grim reality. Superior worldbuilding." —Publishers Weekly

"Dalton...weaves a complex family history, internal struggles and ambitions within Sasha that will appeal to anyone who appreciates compelling and creative storytelling."—Bookreporter.com

"Moments of beauty that will seep into your bloodstream... a mesmerizingly original book with such attention to detail that you'll feel like you could tend a hive or make a stew from dandelion greens....Dalton's world is stunning."—New York Journal of Books

"Dalton weaves an intricate story of friendships carefully made and tended when mere survival would seem to make such bonds impossible. The Last Beekeeper is ingeniously plotted, both clever and tender on every page. I couldn't put it down." —Rebecca Scherm, author of A House Between Earth and the Moon

"The Last Beekeeper is a moving novel about how radical hope can be kept alive in the face of personal grief and global loss." —Matt Bell, author of Appleseed

"Dalton writes with tension and sincerity that will thrill your soul. This wrenching story of the fate of the bees, and of humanity, reads like a thriller; but has the scholarly chops that set it alongside the finest of literary fiction. The Last Beekeeper set my mind buzzing and my heart rending as I tore through the pages to find a flight of hope." —Pamela Klinger-Horn, Valley Bookseller

"The Last Beekeeper is at once a soaring celebration of resilience and friendship, a lyrical exploration of familial ties, and a heartfelt ode to a quickly disappearing natural world. Gorgeous and urgent. I couldn't put it down." —Dr. Amy Brady, Executive Director, Orion Magazine

Praise for Waiting for the Night Song:

"Smart and searingly passionate . . . an illuminating snapshot of nature, betrayal and sacrifices set in the evocative New Hampshire wilderness." —Kim Michele Richardson, award-winning author of The Book Woman of Troublesome Creek

"A riveting and heartbreaking coming of age story… fans of Delia Owens will swoon to find their new favorite author." —Hank Phillippi Ryan, USA Today bestselling author of The First to Lie

"A fresh and engaging tale." —Kelli Estes, USA Today bestselling author of The Girl Who Wrote in Silk

"A killer, gorgeous debut that tackles love, racism and even climate change. Waiting for the Night Song will break your heart, leave you breathless and wanting more." —Rachel Barenbaum, bestselling author of A Bend in the Stars
Welcome to Next Page!
Click below to read our April Newsletter!
Check out our Author Resource page at the link below
Our Pre-Order are here! Check out what we have in store!