You are here
Back to top
Hatchet Island: A Novel (Mike Bowditch Mysteries #13) (Paperback)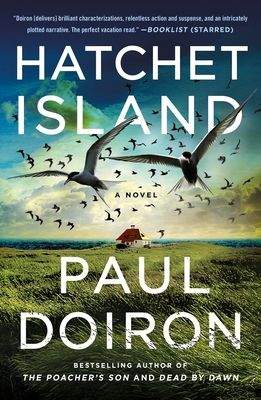 $18.00

Usually Ships in 1-5 Days
Description
---
The eerie, windswept Hatchet Island off the coast of Maine becomes the site of a double murder and a disappearance in this thriller from bestselling author Paul Doiron.

A call for help from a former colleague leads Maine game warden investigator Mike Bowditch and his girlfriend Stacey Stevens on a sea kayaking trip to a research station far off the coast. Stacey spent summers interning on the island, a sanctuary for endangered seabirds, and they are shocked by the atmosphere of tension they encounter when they come ashore. The biologists are being threatened and stalked by a mysterious boatman who they suspect is trespassing on the refuge late at night. And now the sanctuary's enigmatic founder, whose mind has been slowly unraveling, has gone missing.

Camped on an islet for the night, Mike and Stacey waken to the sound of a gunshot. When they return to the refuge at dawn, their darkest fears are confirmed: two of the three researchers have been brutally murdered and the third has disappeared, along with the island skiff. Mike's quest to find the missing man leads to a nearby island owned by a world-renowned photographer and his equally brilliant wife. The inhabitants of this private kingdom quickly close ranks, and Mike increasingly comes to believe that someone in the village knows more about the killings than they dare admit.

With no one to trust and miles from shore, Mike Bowditch must stop a ruthless murderer determined to make sure a terrifying secret never sees the light of day.
About the Author
---
A native of Maine, bestselling author PAUL DOIRON attended Yale University, where he graduated with a degree in English. The Poacher's Son, the first book in the Mike Bowditch series, won the Barry award, the Strand award for best first novel, and has been nominated for the Edgar, Anthony, and Macavity awards in the same category. He is a Registered Maine Guide specializing in fly fishing and lives on a trout stream in coastal Maine with his wife, Kristen Lindquist.
Praise For…
---
"Doiron's prose is first rate, his descriptions of the coastal islands and wildlife as vivid and vibrant as his past portrayals of the deep woods and wild rivers where most of the previous novels were set." –Associated Press

"Doiron [delivers] brilliant characterizations, relentless action and suspense, and an intricately plotted narrative. The perfect vacation read." –Booklist (starred)

"Exceptional…Doiron is writing at the top of his game." –Publishers Weekly (starred)

"Worth the wait." –Kirkus Reviews

"Doiron paints a complex portrait of coastal Maine…Fans of C.J. Box's Joe Pickett mysteries, which also star an indomitable game warden, will particularly enjoy this gripping tale." --Bookpage

"The beauty and brutality of Maine's natural world--and humans' interference--are front and center in the exquisitely plotted Hatchet Island… The tense plot works as an exciting locked-room mystery, while also giving insight into Mike's sense of justice, concern for Maine's fragile environment and deepening relationship with Stacey." –Shelf Awareness

Praise for Dead by Dawn:

"A nail-biter in a nightlong fight for survival in the Maine wilderness....[Doiron proves] his mastery of pacing and suspense. Frostbite aside, this book sizzles." –People Magazine

"Hungry for action, adventure and physical danger? Take a Jeep ride with 31-year-old Maine game warden Mike Bowditch...Dead By Dawn mixes Jack London-style peril with the DIY inventiveness of TV's "MacGyver" and the thrill of Richard Connell's classic pursuit story 'The Most Dangerous Game.'" –Wall Street Journal

"The 12th novel in Paul Doiron's unwaveringly superb series about a courageous, battle-tested Maine game warden...a wilderness survival story as compelling Jack London's classic short story, 'To Build a Fire'....the prose is as sharp as an arrow and so lyrical that it sometimes borders on poetry." –Associated Press

"Maine writer Paul Doiron has demonstrated he is a master at crafting compelling mysteries...unequivocally his best yet."—Maine Sunday Telegram

"Brilliant characterizations and a compelling narrative…this series just keeps getting better." –Booklist (starred)

"Nail-biting...the best yet in a superior series." –Publishers Weekly (starred)

"Part survival story, part mystery-suspense, Doiron's narrative is fast-paced and engaging." –Library Journal

"A tour de force." --Kirkus Reviews

"Fans of Mike Bowditch mystery novels will not be disappointed." --Boston.com

"[A] gripping thriller...relentless in pace and plotting." --Milwaukee Journal Sentinel

Praise for One Last Lie:

"This novel is something of a departure for Doiron... the suspenseful, fast-paced plot has more twists and turns than usual." —Associated Press

"Before you read this book, clear your schedule. It's the kind of story best read in one gulp...[Doiron] keeps getting better." —New York Journal of Books

"Edgar finalist Doiron artfully blends a whodunit plot with superior characterizations in his top-notch 11th mystery…vividly portrays the Maine woods setting while maintaining taut suspense." —Publishers Weekly (starred)

"One Last Lie is a triumph for aficionados and newcomers alike. The secrets, old and new, are compelling, and Doiron's landscape imagery is perfectly balanced (as is the literary history)...Trust, friendship, love, faith and how the family we choose holds powerful sway is at the heart of this impressive series entry." —Shelf Awareness

"Doiron's masterful plotting pulls it all together, and the reader gets to meet an odd assortment of extraordinarily well-defined characters—good guys and bad—while learning more about both the natural and the political history of the Pine Tree State." —Booklist
Welcome to Next Page!
Click below to read our April Newsletter!
Check out our Author Resource page at the link below
Our Pre-Order are here! Check out what we have in store!