You are here
Back to top
In the Lives of Puppets (Hardcover)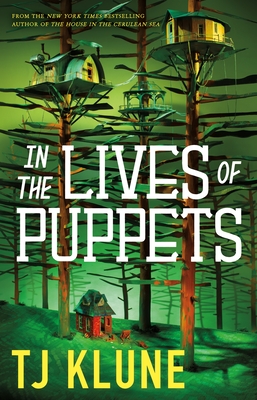 $28.99

Coming Soon - Available for Pre-Order Now
Description
---
New York Times bestselling author TJ Klune invites you deep into the heart of a peculiar forest and on the extraordinary journey of a family assembled from spare parts.

Most Anticipated from BookPage • Goodreads • The Nerd Daily • Paste Magazine • LitReactor • OverDrive • LGBTQ Reads • Tor.com • LibraryReads • more

"An enchanting tale of Pinocchio in the end times." —P. Djèlí Clark

In a strange little home built into the branches of a grove of trees, live three robots—fatherly inventor android Giovanni Lawson, a pleasantly sadistic nurse machine, and a small vacuum desperate for love and attention. Victor Lawson, a human, lives there too. They're a family, hidden and safe.

The day Vic salvages and repairs an unfamiliar android labelled "HAP," he learns of a shared dark past between Hap and Gio–a past spent hunting humans.

When Hap unwittingly alerts robots from Gio's former life to their whereabouts, the family is no longer hidden and safe. Gio is captured and taken back to his old laboratory in the City of Electric Dreams. So together, the rest of Vic's assembled family must journey across an unforgiving and otherworldly country to rescue Gio from decommission, or worse, reprogramming.

Along the way to save Gio, amid conflicted feelings of betrayal and affection for Hap, Vic must decide for himself: Can he accept love with strings attached?

Inspired by Carlo Collodi's The Adventures of Pinocchio, and like Swiss Family Robinson meets Wall-E, In the Lives of Puppets is a masterful stand-alone fantasy adventure from the beloved author who brought you The House in the Cerulean Sea and Under the Whispering Door.

★ "An epic quest of rescue and discovery [with] the author's trademark charm, heart, and bittersweetness." —Library Journal, starred review

Praise for TJ Klune's previous work: "Like being wrapped up in a big gay blanket." —V.E. SCHWAB • "Very close to perfect." —SEANAN McGUIRE • "Utterly absorbing." —GAIL CARRIGER • "It will renew your faith in humanity." —TERRY BROOKS • "It healed me." —CASSANDRA KHAW • "Compassionate." —RYKA AOKI
About the Author
---
TJ KLUNE is the New York Times and USA Today bestselling, Lambda Literary Award-winning author of The House in the Cerulean Sea, The Extraordinaries, and more. Being queer himself, Klune believes it's important—now more than ever—to have accurate, positive queer representation in stories.
Praise For…
---
"Readers who loved Klune's previous works will find plenty of the author's trademark charm, heart, and bittersweet." —Library Journal, starred review

"In The Lives of Puppets is glorious, a thoroughly entertaining and deeply stirring journey through a world of extraordinary robots. The characters here are so vibrant, and the story proves that love stretches well beyond the world of humans." —Chuck Tingle, Hugo Award finalist and author of Camp Damascus

"In the Lives of Puppets is a powerful story of humanity and what survives after we're gone. Do the new inheritors of this earth forge a new path? Or are they destined to repeat the mistakes of their makers? TJ Klune has created an enchanting tale of Pinocchio in the end times, offering up hard truths alongside humor, kindness, love and, most important, hope." —P. Djèlí Clark

"I dare say I am yet to read more humane robots than I've encountered in In the Lives of Puppets. This kind, caring, hopeful humanity that Klune weaves into his work tugs at the heartstrings. There are passages so affecting within, I had to pause. This was brilliantly offset by moments of levity. Literature at its very best opens up the potential of a better world than the one we're currently in. Klune's vision of a more considerate and compassionate society is immensely powerful. One can't help but fall in love with this book." —T.L. Huchu

For The House in the Cerulean Sea
A New York Times, USA Today, and Washington Post Bestseller!
An Indie Next Pick!
An Alex Award-Winner

"I loved it. It is like being wrapped up in a big gay blanket. Simply perfect." —V.E. Schwab, #1 New York Times bestselling author of The Invisible Life of Addie LaRue

"This book is very close to perfect." —Seanan McGuire, New York Times bestselling author of Every Heart a Doorway

"An utterly absorbing story of tolerance, found family, and defeating bureaucracy." —Gail Carriger, New York Times bestselling author of Soulless

"A modern fairy tale about learning your true nature and what you love and will protect. It's a beautiful book." —Charlaine Harris, #1 New York Times bestselling author

"It will renew your faith in humanity." —Terry Brooks, New York Times bestselling author of the Shannara series

"It's a witty, wholesome fantasy that's likely to cause heart-swelling." —The Washington Post

"Readers will revel in Klune's wit and ingenuity." —Publishers Weekly, starred review

"Remarkable." —Amazon Book Review

For Under the Whispering Door
A New York Times, USA Today, and Indie Bestseller!
An Indie Next Pick!

"Under the Whispering Door is a kind book. It broke my heart with its unflinching understanding that grief never goes away. And then it healed me in the next breath." —Cassandra Khaw, USA Today bestselling author of Nothing But Blackened Teeth

"There is so much to enjoy in Under the Whispering Door, but what I cherish the most is its compassion for the little things—a touch, a glance, a precious piece of dialogue—healing me, telling me that for all the strangenesses I hold, I am valued, valid—and maybe even worthy of love." —Ryka Aoki author of Light from Uncommon Stars

"Klune's latest is a sweet tale of grief and second chances, and a ghost story about not giving up on even the most lost of souls." —Booklist

"Tenderness, wit, and skillful worldbuilding elevate this delightful tale. Fans of queer fantasy won't want to miss this." —Publishers Weekly
Welcome to Next Page!
Click below to read our March Newsletter!
Check out our Author Resource page at the link below
Our Pre-Order are here! Check out what we have in store!