You are here
Back to top
House of Leaves: The Remastered Full-Color Edition (Paperback)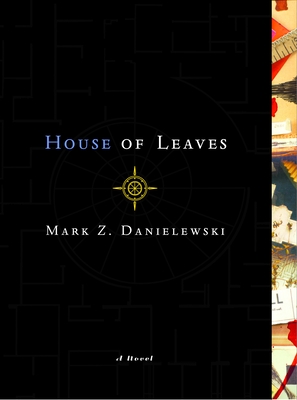 $26.00

Usually Ships in 1-5 Days
Description
---
"A novelistic mosaic that simultaneously reads like a thriller and like a strange, dreamlike excursion into the subconscious." —The New York Times

Years ago, when House of Leaves was first being passed around, it was nothing more than a badly bundled heap of paper, parts of which would occasionally surface on the Internet. No one could have anticipated the small but devoted following this terrifying story would soon command. Starting with an odd assortment of marginalized youth -- musicians, tattoo artists, programmers, strippers, environmentalists, and adrenaline junkies -- the book eventually made its way into the hands of older generations, who not only found themselves in those strangely arranged pages but also discovered a way back into the lives of their estranged children.

Now this astonishing novel is made available in book form, complete with the original colored words, vertical footnotes, and second and third appendices.

The story remains unchanged, focusing on a young family that moves into a small home on Ash Tree Lane where they discover something is terribly wrong: their house is bigger on the inside than it is on the outside.

Of course, neither Pulitzer Prize-winning photojournalist Will Navidson nor his companion Karen Green was prepared to face the consequences of that impossibility, until the day their two little children wandered off and their voices eerily began to return another story -- of creature darkness, of an ever-growing abyss behind a closet door, and of that unholy growl which soon enough would tear through their walls and consume all their dreams.
About the Author
---
Mark Z. Danielewski was born in 1966. House of Leaves is his first novel.
Praise For…
---
"Any hope or fear that the experimental novel was an aberration of the twentieth century is dashed by the appearance of Mark Z. Danielewski's House of Leaves, the first major experimental novel of the new millennium. And it's a monster. Dazzling."
—The Washington Post Book World
 
"An intricate, erudite, and deeply frightening book."
—The Wall Street Journal
 
"A great novel. A phenomenal debut. Thrillingly alive, sublimely creepy, distressingly scary, breathtakingly intelligent—it renders most other fiction meaningless. One can imagine Thomas Pynchon, J. G. Ballard, Stephen King, and David Foster Wallace bowing at Danielewski's feet, choking with astonishment, surprise, laughter, awe."
—Bret Easton Ellis
 
"[Its] chills spark vertigo, its erudition brings on dislocating giddiness . . . House of Leaves is dizzying in every respect."
—Entertainment Weekly
 
"Stunning . . . What could have been a perfectly entertaining bit of literary
horror is instead an assault on the nature of story."
—Spin
 
"This demonically brilliant book is impossible to ignore, put down, or persuasively conclude reading. In fact, when you purchase your copy you may reach a certain page and find me there, reduced in size like Vincent Price in The Fly, still trapped in the web of its malicious, beautiful pages."
—Jonathan Lethem, author of Motherless Brooklyn
 
"[A] tour de force first novel. [It] can keep you up at nights and make you never look at a closet in quite the same way again . . . Staggeringly good fun."
—Chicago Sun-Times
 
"A novelistic mosaic that simultaneously reads like a thriller and like a strange, dreamlike excursion into the subconscious."
—The New York Times
 
"If you can imagine that Peter Pan's enemy is not Captain Hook but Neverland itself, or that the whale that swallows Jonah is Moby-Dick, you'll begin to appreciate what this book is about. Anticipate it with dread, seize, and understand. A riveting reading experience."
—Gregory Maguire, author of Wicked: The Life and Times of the Wicked Witch of the West
 
"Grabs hold and won't let go . . . The reader races through the pages exactly as her mind races to find out what happens next."
—The Village Voice
 
"Like Melville's Moby-Dick, Joyce's Ulysses, and Nabokov's Pale Fire, Danielewski's House of Leaves is a grandly ambitious multi-layered work that simply knocks your socks off with its vast scope, erudition, formal inventiveness, and sheer storytelling skills." —San Diego Union-Tribune
Welcome to Next Page!
Click below to read our March Newsletter!
Check out our Author Resource page at the link below
Our Pre-Order are here! Check out what we have in store!